POETS OF RHYTHM
The world's best funk from Germany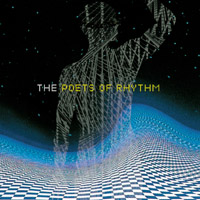 Poets Of Rhythm / What Comes Round
3. Funky Train
7. Upper Class
9. The Plan
10. What You Doing
12. Saltin' the Soup
13. It Came Over Me
Poets Of Rhythm / Discern Define
2. Smiling While You're Crying
3. Ham Gallery
4. Plus Plus
5. We
6. The Jaunt
7. Eulogize the source
8. Fondle Rock
9. Moira
11. Survival of The Freshest
Poets Of Rhythm / Smilin'
2. Smiling While You're Crying (Tommy Guerrero Remix)
Lyrics Born / Same Shit Different Day
Poets feature on track 12 - The Bay
MORE ESSENTIAL FUNK
gotta have it!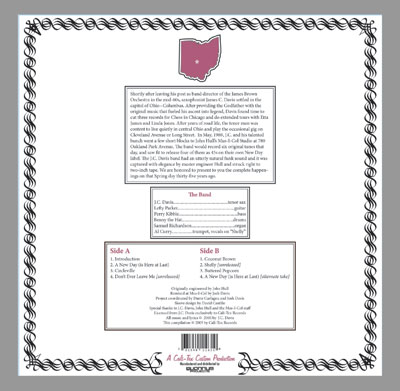 J.C. DAVIS - A NEW DAY
(click on art for full sizes)
soundclips:
full tracklist soon!
SCHOOLHOUSE FUNK 2
Five years later, the unthinkable has happened: a sequel to one of the most clandestine and mysterious funk compilations of all time. Sourcing high school and college records from thrift stores all over the nation, Cali-Tex Records has put together a set of impossible-to-find tracks that begs the question: "How could lightning strike twice?" There's thousands of awful high school records from the '60s and '70s, making the mere existence of these two comps a minor miracle. Funk, breaks, soulful ballads, and improbably psychedelic madness mesh in gloriously unpretentious fashion. So go on, relish in the modern miracle that is "Schoolhouse Funk II."

Mickey & The Soul Generation
"Iron Leg: The Complete Mickey And The Soul Generation"
Cali-Tex CT-102
Studio

Iron Leg
Football
Up The Stairs And Around The Bend
Give Everybody Some
Joint Session
The Whatzit
Get Down Brother
Mystery Girl
Message From A Black Man
Chocolate
How Good Is Good
We Got To Make A Change
Soulful Sickness
U.F.O. (Original Version)
Hey, Brother Man
Southern Fried Funk (1st Movement)
Southern Fried Funk (2nd Movement)
Hey Brother Man (Demo Session)
U.F.O. (Demo Session)

Live

The Get Down
Working On Your Love
Help (I Need YOur Love)
Why You Wanna Leave Me
Life's A Mystery
Live Demo - Hey, Brother Man
Schoolhouse FUNK
Funk - School / Marching bands compilation cd. Compiled by DJ Shadow
1. Intro
2. Black Roots
3. Introduction of House Band/I Made a Mistake - Larry Morgan
4. Kcor Variations
5. Cisco Kid
6. World Is a Ghetto
7. Funky Beat
8. Scorpio
9. Funky Side of Town [Instrumental]
10. Nine Monks
11. Second Half Intro/Red Clay (Reprise)
12. Camel Back
13. Sudsy (Soul Pride)
14. Toast to the Boogie
15. Emergency
16. Chameleon
17. Give It Away
18. Uncle Albert/Admiral Halsey
19. Loose Booty
20. Newborn Hippopotamus/Jazz Rock Machine
21. Outro
22. [Untitled Track]
DJ Shadow Funk Spectrum / Compilation by DJ Shadow and Keb Darge
DJ Shadow
1. Part Time
2. Lets Do It Today (Procrastination)
3. Roadrunners - Do It Again
4. Dead Dont Die Alive , Pt. 1
5. Getting Down for Xmas
6. Communicators and Black Experience Band - The Road
7. Mr Chicken Sh*T
8. Clap Your Hands
9. RDM Band - Butter That Popcorn
10. Whats Going On?

Keb Darge
11. Can't Stop Now
12. It's a Man's World
13. Every Man for Himself
14. Tell ME
15. It Ain't Fun But It's Fun
16. Backtalk
17. Mr. MacHine
18. Who's the King
19. We Oughta Get Together
20. World
MORE ESSENTIAL FUNK
gotta have it!!
DJ Shadow & Cut Chemist / Brainfreeze
funk mix
DJ Shadow & Cut Chemist / Product Placement funk mix
Mid West Funk Compilation - (follow up to Texas Funk) JMANCD.007
click here for more details and audio
1 "Let's Do it Today" The Us (previously unreleased full length version)
2 "Pushin' To The Top" Markus Kelly & the Impassions
3 "Soul & Sunshine" Harvey & the Phenomenals
4 "Whip It Pt. 1" The New Establishment In Soul
5 "Sissy Walk" Billy Ball & the Upsetters
6 "The Hatch" The T.M.G.'s
7 "Tell Her" Fred Williams & the Jewels Band
8 "Save Me" Wanda Davis
9 "It Ain't Fair, But It's Fun Pts 1 & 2" Fabulous Originals
10 "I Don't Want Your Love" Barbara Howard
11 "Future II" The Personations & Organization
12 "A Day in the Life" Chocolate Snow
13
14 "Color Me" People in the News
15 "Mr. Machine Pts 1 & 2" Chefs
16 "Soulful Proclamation" Messengers Incorporated
17 "Funky In Here" Dayton Sidewinders
18 "Boots' Groove" Soul Toronadoes
19 "What-cha Feel Is What-cha Get" Wallace Brothers
20 "Trying to Make Ends Meet" Earl English & the Apachies
21 "Epitaph Movement" Epitaph
22 "It's Not You For Me" Billy Joe Holloman (previously unreleased, CD only)
23 "Po Boy's Dream" Illinois Connection (previously unreleased)
Texas Funk Compilation - by DJ Shadow / JMANCD.006 Texas Funk CD.
click here for more details and audio
1. I turn you on - Latin Breed
2. Reach out (and give me your hand) - Tickled Pink
3. Get down - Sunny & The Sunliners
4. Funky chick - Majestics (1)
5. Funky stuff - Little Jr. Jessie & His Teardrops
6. Sagittarius black - McNealy, Timothy
7. Evil ways - Brothers Seven
8. Do your thing - Zapata
9. There's got to be someone for me - Groove Merchants
10. Give everybody some - Mickey & The Soul Generation
11. Every man for himself - Road Runners (3)
12. Super funk - Blair, Vern Debate
13. Soul pot - Soul Ones
14. Who will be next fool - Tyson, 'Little' Jimmy & The Highway Robbers
15. Sissy strut - Joe Bravo
16. Funky smunk - Brothers Seven
17. Power struggle - Polk, James & The Brothers
18. I got the feeling - Bobby & The Premiers
19. Clean up man - Finley, Eddie & The Cincinatti Show Band
20. Soul pride - Little Joe & The Latinaires
21. Psycho (parts 1&2) - Fabulous Mark III
SHARON JONES / NATURALLY
01. How Do I let a Good Man Down
02. Natural Born Lover
03. Stranded In Your Love
04. My Man is a Mean Man
05. You're Gonna Get It
06. How Long Do I Have To Wait For You...
07. This Land is Your Land
08. Your Thing is a Drag
09. Fish in my Dish
10. All Over Again